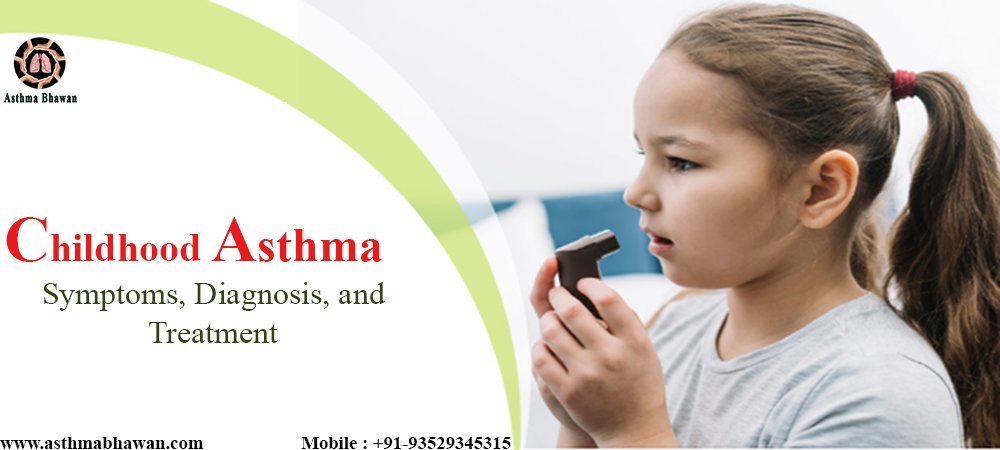 Childhood Asthma: Symptoms, Diagnosis, and Treatment: The lungs and the airways become easily inflamed when they get exposed to a particular trigger, like catching a cold, respiratory infection, and inhaling pollen in children. Childhood asthma can cause some daily symptoms that affect or interfere with the routine of children like playing, sleeping, sports, school, etc. Unmanaged asthma can be harmful to some children and it can cause a dangerous asthma attack. Childhood asthma is similar to asthma in adults, but it gets difficult to deal with asthma in children. Unfortunately, children with asthma don't have any cure. If you or your child is suffer from Asthma, get the best treatment of asthma disease at Asthma Bhawan. The symptoms also follow them up even after being an adult. Asthma can irritate a child a lot and you can experience many changes in their behavior as well.
Symptoms of Asthma in Children | Childhood Asthma: Symptoms, Diagnosis, and Treatment- Asthma Bhawan
Due to childhood asthma, the child might feel trouble sleeping because of shortness of breath, coughing, wheezing, facing problems in breathing while playing, or doing exercise. Fatigue happens due to poor sleep. Asthma symptoms are different in every child. They could experience mild to moderate symptoms. Childhood Asthma: Symptoms, Diagnosis, and Treatment. There is most common asthma symptoms in childhood are: –
The sound of wheezing while breathing out
Shortness of breath
Chest Congestion or tightness
Treatment of Childhood Asthma
When the children are not diagnosed on right time, there is an urgent requirement for treatment. In severe cases, one should not take any chance with the child's health. Seek emergency care in case the situation gets worse. Asthma can cause a range of complications like an asthma attack, a decline in lung function, poor sleep, fatigue, etc.
Also you can read: NeoCov Virus | How it is Dangerous for Asthma Patients | Precautions and Treatment
Being careful to avoid asthma triggers is the best way to prevent asthma attacks. The limited exposure to asthma triggers can help the child to remain and stay away from the allergens and irritants. Smoking is the strong risk factor of asthma in children and it can also be turned into an asthma attack. Regular physical activity is the most important thing to maintain the proper functioning of the lungs so that they can work effectively. If you want to know more about Childhood Asthma: Symptoms, Diagnosis, and Treatment, visit Seasonal Asthma: Causes, Symptoms, and Treatment
Top Asthma Hospital- Asthma Bhawan
Asthma Bhawan is one of the top listed asthma hospital in India. The basic advice doctors provide is to have a good involvement in physical activity which will help them to maintain their weight and protect them from asthma triggers. Due to physical activity the chances of heart attack also get reduce. You can find all the experienced and specialized doctors. This is the best and right place for asthma treatment. You will get the supreme consultancy at Asthma Bhawan.