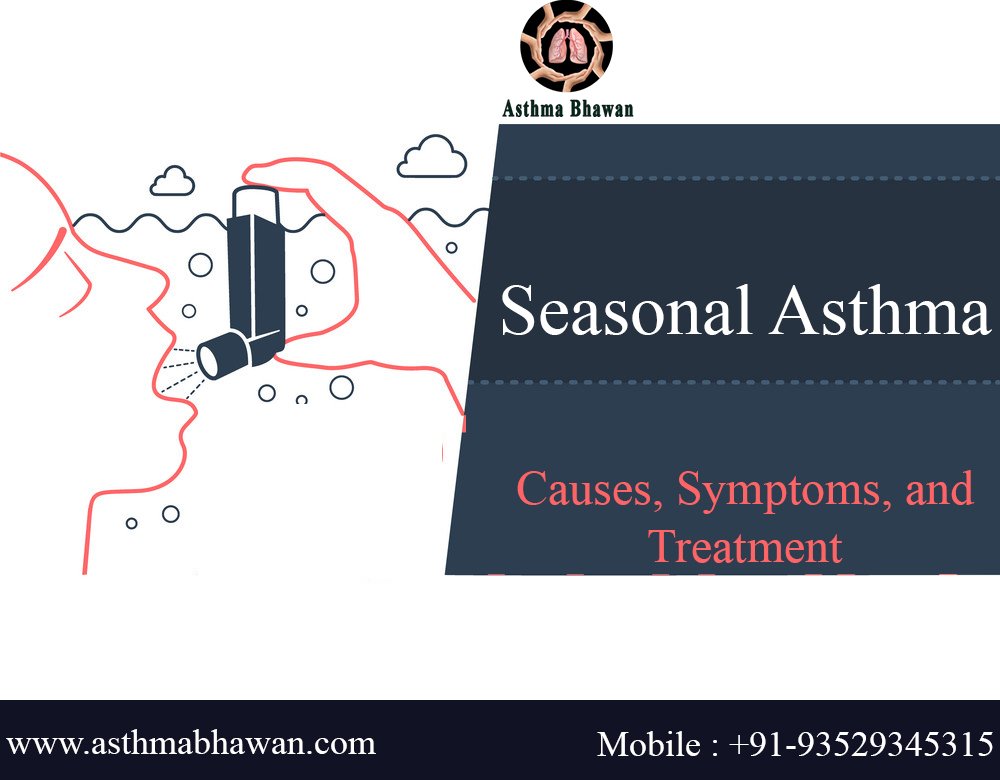 Seasonal Asthma: Causes | Symptoms | and Treatment:
Seasonal asthma, also known as seasonal allergic asthma, is a type of asthma that is triggered by seasonal allergens, such as pollen from trees, grasses, or weeds. When a person with seasonal asthma is exposed to these allergens, it can cause inflammation and narrowing of the airways, leading to symptoms such as wheezing, coughing, chest tightness, and shortness of breath. Asthma Bhawan is the best asthma treatment Hospital in India.
Seasonal Asthma | Asthma Bhawan
Asthma patients can notice the difference in their condition in different seasons. For people who are suffering from asthma seasons of spring, summer, winter, etc. could be challenging due to the seasonal allergens. Suffering from an allergy affects the immune system then it perceives the allergens as an invader that should be attacked.
Also check: NeoCov Virus | How it is Dangerous for Asthma Patients | Precautions and Treatment
The immune system produces immunoglobulin E to respond to allergens. i.e. is an antibody that triggers when the antibody is released of histamine and then it causes allergic symptoms like runny and itchy nose, watery and itchy eyes, and sneezing. People suffering from this can also be infected due to this process. They can get problems with their lungs and airways, causing seasonal asthma symptoms. and get more information on Seasonal Asthma: Causes | Symptoms | and Treatment.
Some of The Common Triggers of The Season Include:-
Pollen
In seasonal asthma, pollen allergy is a common trigger. It is produced by grasses, trees, and weeds. Moreover, different types of pollen depend on the outer greenery around them.
Mold and Mildew
Allergens such as mold and mildew also can be the cause of seasonal asthmatic symptoms. Certain molds spread more readily in dry, windy weather as we compare others to get multiple and spread when it is humid and damp.
According to some experts, allergic reactions to mold are most common during the early fall and summer. Thus, mold can be indoors or outdoors.
Cold Weather
Seasonal asthma is more vulnerable in cold, blustery weather. Cold indoor allergies increased with dust mites, pet dander, mold, and cockroaches. Apart from its spending, time outside may also trigger asthma attacks as breathing in cold, dry air can irritate the airways. Due to cold air production of histamine is also increased. Cold-induced asthma is also a common problem for asthma patients. You can read here the Causes and Symptoms of cold-induced asthma and more about it.
Hot weather
In the summer season, the heat can be the reason for seasonal asthma. The airways can get narrow while breathing in hot and dry air this could cause asthmatic symptoms. Humid air can narrow and tighten the airways. Sometimes it is getting hard to breathe in the humid air.
Check: How to Improve Asthma in Winter- Precautions and Treatment
Symptoms of Seasonal Asthma
So, symptoms of seasonal asthma disease include:-
Difficulty breathing (shortness of breath)
Coughing
Wheezing upon exhalation
Chest tightness or pain
Seasonal Asthma Treatment | Asthma Bhawan
The patient suffering from seasonal asthma and wants to know about Seasonal Asthma: Its causes | Symptoms | and Treatment; must use precautions. Asthma Bhawan doctors are best to suggest asthma treatment. So, some of the major things Asthma Bhawan doctor suggests are: –
Need a rescue inhaler daily
Have a cough that won't go away
Get dizzy
Take medication that's unable to control shortness of breath or wheezing
Also, read Harmful Side Effects Of Holi Colors.
Video: Symptoms of Seasonal Asthma
Conclusion
Hence, if you are looking for the best seasonal asthma treatment, Asthma Bhawan is the perfect hospital to get seasonal asthma treatment. You can call us on the emergency line (+91)9352934531 to know more about Seasonal Asthma: Causes | Symptoms | and Treatment or you can visit Asthma Bhawan.