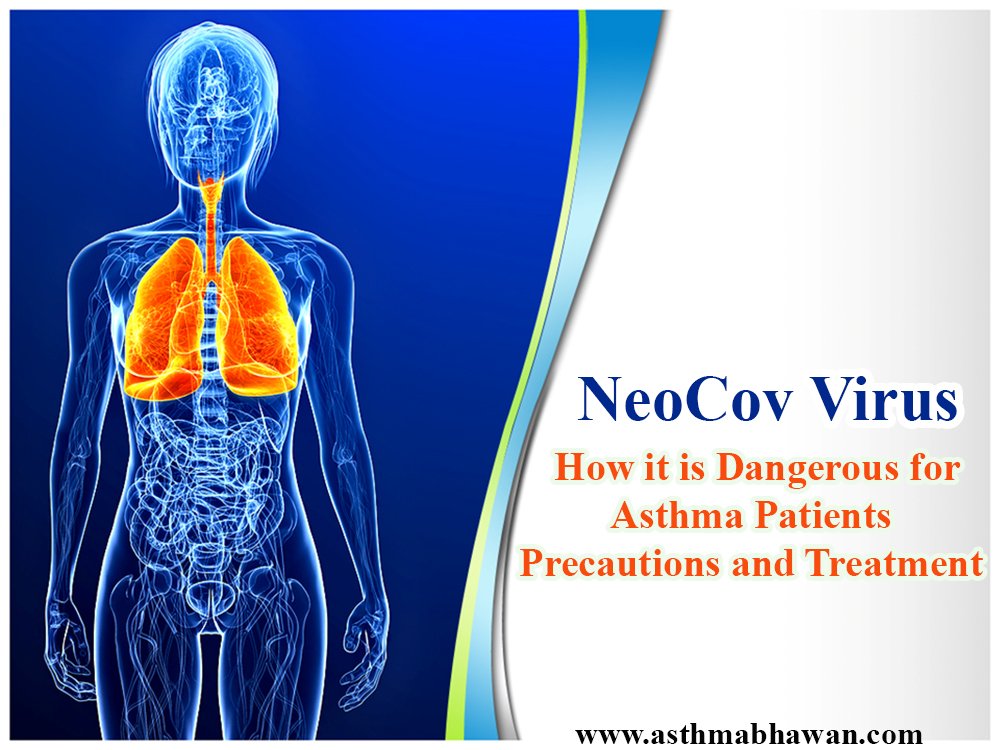 It was the first time a deadly virus infection, COVID-19 emerged, in India in 2019. It spread with great speed all over the world in a very short time.  The world is still suffering from the COVID-19 that is caused by SARS-CoV-2. We hear a lot about the variants of Covid-19 most, probably everyone is well aware of the two variants the, Delta and Omicron. We should know, a new strain, NeoCoV. In this article we Asthma Bhawan give you all information that you may know about NeoCov Virus and How it is Dangerous for Asthma Patients with all Precautions and Treatment.
NeoCov Virus and How it is Dangerous for Asthma Patients | Precautions and Treatment- Asthma Bhawan
Delta was a dangerous variant that cause; a deadly situation if any person is infected by it. Due to the Delta variant, many lives were lost. Omicron cases rapidly increased due to the high transfer capability. We have a warning about the emergence of a new strain. The warning is from a similar place where the coronavirus is deducted for the first time in the world. Scientists stated that the new strain could be more dangerous and deadlier as compared to COVID-19 other variants known as NeoCoV. Its characteristics are more dangerous. It has a high mortality rate that's means it is deadlier also this is highly transmissible.
How it is dangerous for asthma patients?
This question is a matter of concern. Proper precaution and treatment are necessary to stay fit. We can't consider that NeoCoV is a new variant. It is a new strain along; we can say it is a new virus that is similar to coronavirus. NeoCov is close to MERS-CoV (Middle East Respiratory Syndrome). The new strain is still limited to animals, but experts state that it could infect human beings as well. Out of three patients, one could die as it has a high risk of death. It creates complications for the patients. That is an average calculated by the experts. Clearly, we can't define the symptoms of NeoCoV, but it is assumed that it has similar symptoms of COVID-19.
Vist for know more at How Omicron Virus affect asthma Patient?
NeoCov Virus | Symptoms
Every patient who suffers from asthma has a different situation. Asthma patients could experience mild to moderate levels of the symptoms. The symptoms of asthma are: –
Shortness of breath or breathing problem
Cough
Sore throat
Muscle strain
High fever
Loss of taste or smell
Headache
Coughing in night time or early morning
The use of use release inhaler
An increase in chest discomfort or wheezing
Breathlessness or breathing problem
The symptoms of  NeoCoV is similar to Covid-19. If the person is suffering from Asthma and gets infected with NeoCoV, the life of the person could be in danger and may face severe conditions. NeoCov Virus and How it is Dangerous for Asthma Patients
Precautions and Treatment of NeoCov Virus
NeoCov Virus and How it is Dangerous for Asthma Patients for that, there is a need to use precaution and treatment for the NeoCoV virus.  Asthma treatment center doctors suggest the following precautions: –
Avoiding asthma triggers
Good source of medication
Knowledge of using an inhaler perfectly
Avoiding potential asthma triggers
Asthma Bhawan is the right place for your treatment. Asthma Bhawan has the best facility for doctors. We suggest the right treatment for your fit and healthy life. Visit for more information at www.asthmabhawan.com