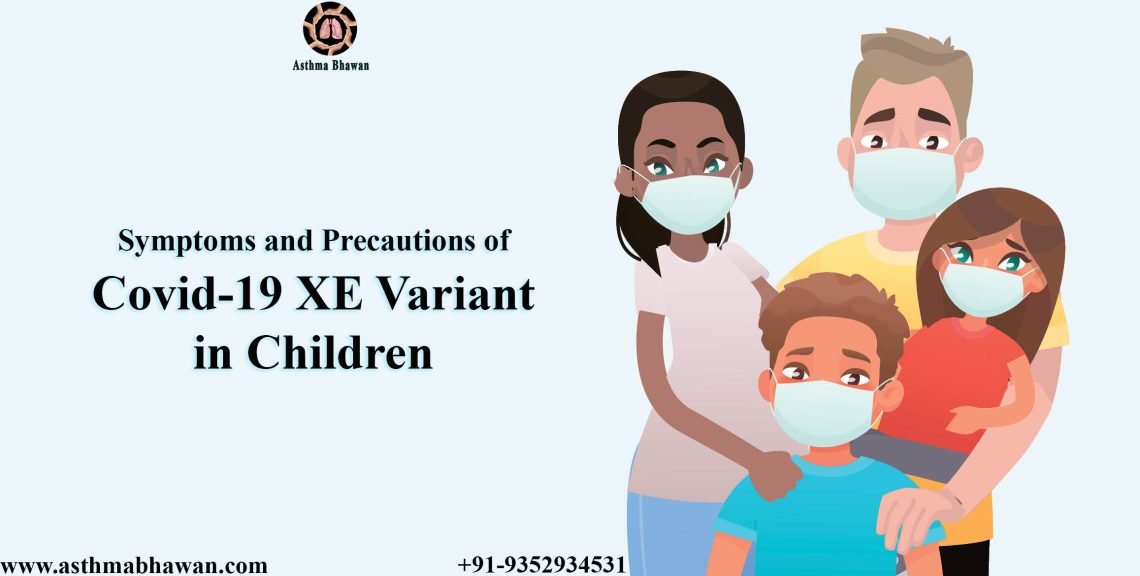 Symptoms and Precautions of Covid-19 XE Variant in Children: The threat of the Coronavirus pandemic is not over yet. However, the fourth wave of Corona has already hit many countries in Europe and Asia. Now the spark of COVID-19 has reached India too. The number of new cases has triggered rising again in the country. This time COVID is making most of the children its targets. After seeing new cases of the COVID XE VARIANT, parents are requesting the government to discontinue Offline School until the situation improves. And this COVID 4th wave is mainly affecting children, especially school students. Because recently, more than 30% of COVID cases have been reported not only in UP but in Delhi and nearby cities in children. Asthma Bhawan
Now, the question arises of whether schools are following proper COVID-19 guidelines or not? Whatever the question arises, the topic that could be part of our consideration is what COVID XE variant: Symptoms and Precautions of Covid-19 XE Variant in Children and how we can protect our children from this virus.
Visit: COVID-19 XE Variant- Symptoms | Treatment | Precautions
Symptoms and Precautions of Covid-19 XE Variant in Children | Covid-19 XE Variant- Asthma Bhawan
The XE variant is more transmissible than the earlier strains of Covid-19. Although, unvaccinated people, especially children, should take all efforts to protect against the virus's infection.
In Children, the symptoms of XE VARIANT are minor including running nose, body ache, dry cough, fever, and throat pain. And this could be treated effortlessly by proper care and by following the Covid care expert's instructions. According to Asthma Bhawan's experts, some children are also experiencing vomiting or loose motions.
Also check COVID-19 XE VARIANT | BOOSTER DOSE IN INDIA
PRECAUTIONS FROM COVID XE VARIANT
Firstly, it is the responsibility of parents they give healthy diets to their kids and follow a healthy lifestyle. Apart from that, most importantly, make them vaccinated as soon as possible, if your kid is eligible for vaccination, then
Make sure that your kids are properly covered and wear masks.
It's the responsibility of parents and school staff  to educate kids about covid-19 and make sure to follow all COVID guidelines.
And if talking about again shifting to online school, then, for now, the chances are extremely intense educating kids in school about this new COVID variant is the best thing schools can do.
For to know more about covid vaccine for kids, Visit Covid-19 Vaccines for Kids In India
If they see any COVID symptoms in any kid, school management should immediately isolate that kid and inform their parents about this. According to the Asthma Bhawan experts, there is no need to panic as the chances of severe illness in children are very low. But even though the chances are extremely low, we should follow the basic guidelines for COVID like; washing hands, wearing a mask, and social distancing.
Also Check: Benefits Of Covid XE Variant Booster Dose
And take all the above precautions for the COVID XE VARIANT. And instead of worrying the kids, parents should be aware of the Symptoms and Precautions of Covid-19 XE Variant in Children and tell them to inform their teachers if they face any COVID symptoms. For that, you can consult at Asthma Bhawan.