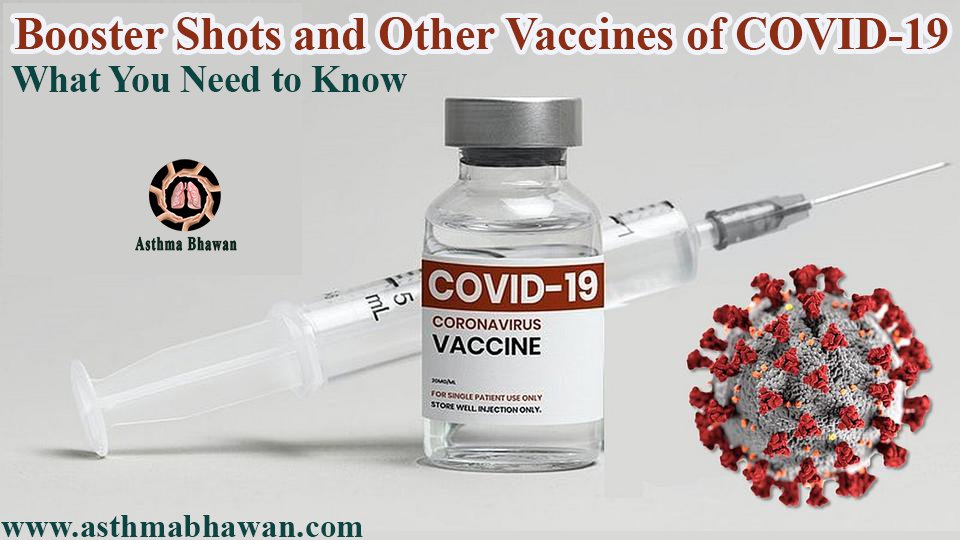 Booster Shots and Other Vaccines of COVID-19: Vaccines are now the only solution to protect ourselves from the new coronavirus variant XBB.1.5. And after the launch of the Booster dose, people have so many questions. So Asthma Bhawan, which is the best Asthma hospital in India, has all answers to the queries about Booster Shots and Other Vaccines for COVID-19.
Booster Shots and Other Vaccines of COVID-19- What You Need to Know- Asthma Bhawan
With the emergence of other SARS-CoV-2 variations, countries have started to distribute COVID-19 vaccine booster doses to high-risk groups as well as the adult population. However, there is still discussion about how long primary vaccine series are useful, when booster dose is supplied, and whether heterologous booster regimens are safe. Hence, we all wanted to look at the effectiveness of the Booster Shots and Other Vaccines for COVID-19, protection, and the effectiveness of booster doses.
Also, you can check: How does Omicron Virus affect asthma Patients?
What is a Booster/Precautionary Shot and why is a Booster Dose necessary?
Covid 19 Booster shot is a precautionary shot given after taking the second covid dose. Also, it provides extra protection against the new variant XBB.1.5. And the main agenda of the Booster dose is to strengthen the immune response. According to various research, the effectiveness of vaccination to protect against hospitalization and death has decreased.
Who is eligible for the COVID Booster shot? How can we get booster shots?
The Asthma Bhawan or COVID Care Hospital recommends an initial COVID-19 booster if you are:
Receive the First Booster dose
All persons 12 years of age and older can receive 1 booster dose after completing their main COVID-19 vaccination schedule.
Receive Second Booster Doses
Adults 50 years of age or older
People 12 years of age or older who have moderate or severe immunosuppression
People who received 2 doses (1 main dose and 1 booster dose) of Johnson & Johnson's Janssen vaccine.
You'll get a message on your registered mobile number about when you can take your booster dose (with the date). Also, you can check the cowin website for details.
Check more about Covid-19 Vaccines for Kids In India
Are booster shots available for children?
Yes, Children and teens that are older than 12 years can get the booster dose if they are eligible for it. Vaccine side effects in children are mild and similar to those adults experience, according to asthma Bhawan's experts, including pain at the injection area, fever, muscle pain, sickness, and fatigue.
Also, read How Long COVID Shortness of Breath Last?
Side effects of Booster shots | Booster Shots and Other Vaccines of COVID-19
The most frequently reported side effect of Booster shots is the same as the earlier doses, for example;
Headache
Pain in the muscles and on the arm where the injection is given
Tiredness
And in some cases even, fever.
Although this doesn't mean that you have any illness, it's the signal that your immune system is responding to the vaccine shots.
If you have a weakened immune system, Should you get an additional COVID-19 vaccine?
If you are moderately or hardly immunocompromised, you may suffer the serious threats of COVID-19 disease and death. Additionally, the Centers for Disease Control and Prevention (CDC) approved an additional dose for people ages 12 and more senior who are mild to severely immunosuppressed.
Difference between Booster Shots and Other Vaccines for COVID-19
A booster dose is given fully vaccinate people when protection against the virus decreased. Booster shots are ordinary for many childhood vaccines, such as those suffering from measles and chickenpox. Also, this is developed to achieve safe and effective protection against COVID-19 including XBB.1.5 variant.
An additional dose is given to people with weak immune systems or any underlying disease such as cancer, untreated HIV infection, etc. The requirement for a third dose of the Pfizer and Moderna vaccines for immunocompromised people is a consequence of one primary factor- an improved risk of extreme illness or hospitalization. This additional dose can give as soon as 28 days following the second dose of their vaccine schedule.
Visit: Benefits Of Covid XE Variant Booster Dose
Other vaccines of COVID- 19
Types of Booster Shots and Other Vaccines of COVID-19 that are available right now:-
Corbevax Vaccine
Covaxin
Johnson & Johnson Vaccine
Moderna Vaccine
Covishield
Novavax
Sputnik Light Vaccine
Zydus Cadila Vaccine
In the end, if you are suffering from any respiratory disease, you can visit Asthma Bhawan, the best Asthma treatment and COVID care hospital in Jaipur.