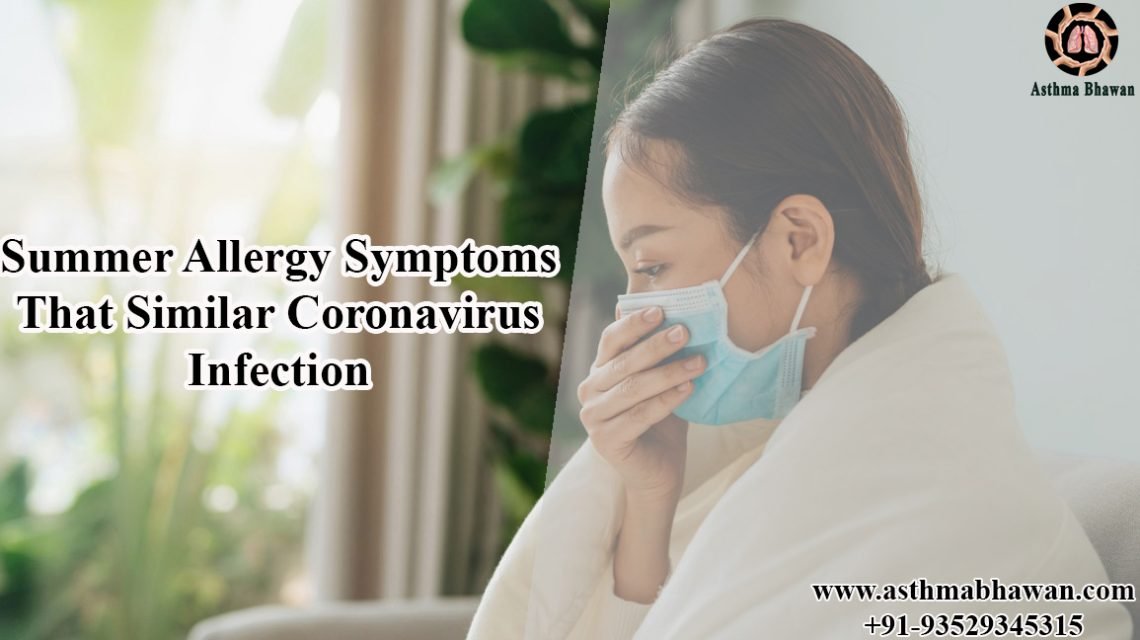 Summer Allergy Symptoms That Similar Coronavirus Infection- In the second wave of Covid-19, the number of positive cases and death are increasing in numerous manners. And the symptoms are sneezing, cough or any kind of allergy; most of the people go into panic mode. Since the Coronavirus is hitting back in the summer season, people are highly concerned of their health because the symptoms are mimic as same of covid-19.  We Asthma Bhawan, bring you a guide to differentiate Summer Allergies from Covid-19.
Summer Allergy Symptoms That Similar Coronavirus Infection | Allergy Hospital- Asthma Bhawan
The newer variants are coming up with the complete new symptoms of noticing a slight cough or runny eyes. While some other symptoms of the coronavirus co-occur with allergies, leading to unavoidable comparisons, they are nothing to panic about. Summer Allergy Symptoms That Similar Coronavirus Infection
You can also read: Difference between Asthma, Allergies, and COVID-19
The Symptoms of Summer Allergy That Are Similar To Covid-19 |
We Allergy Hospital bring you some common Summer Allergy Symptoms That Similar Coronavirus Infection that people usually misunderstand as the infectious SARA-CoV2 virus:
Dry Cough
The most common symptom of coronavirus is a dry cough. It mainly happens as a reflex activity to clear the airway of annoyances and slime. Apart from initiating symptoms of Covid-19, a dry cough can occur due to numerous causes like allergies, typical cold, flu, or even asthma.
Sneezing
Another typical symptom of summer allergy is sneezing forced removal of air via the nasal passage due to annoyance of the mucous membranes inside of dirt and bacteria. The recent variant of Covid-19 does not show this symptom, but people are scared if someone sneezes frequently in the pandemic.
Watery Eyes
Watery eyes occur if you suffer from a high fever or something like dirt, dust, smoke, or chemicals. Since conjunctivitis, which is also causing the eyes to get watery, is noted as one of the current signs of Covid-19, people usually ignore the fact that it can also happen due to pollen, mold, or pet animosity.
Dehydration
Dehydration is one of the common issues of the summer season when the body fails more water than it can take, hindering physical work. Fever usually leads the dehydration, people often misunderstand this summer situation as a primary sign of coronavirus.
Rashes
The main cause of allergens is inflammation, irritation, reddening of the skin showing rashes in some parts of the body. The Covid-19 virus is also showing skin rashes, as well as summer allergies, are showing which are frequently misunderstood.
Conclusion
If you are suffering from fever or breathing problem along with the earlier given signs, consult at Asthma Bhawan, Jaipur. Also get the best treatment of Allergies, Asthma, and Covid-19.